Kitchen and Bathroom Cabinet Painting
Are your kitchen or bath cabinets dirty, worn or dated? Are you looking to brighten up your kitchen or bath cabinets? You can drastically change the style and look of your kitchen or bathroom with just a little paint. Take a look at our Before and After pictures, and see for yourself.
The installation of new cabinets can cost upwards of $10 to $20,000 dollars. Painting cabinets is an affordable option and easier than replacing your entire set of cabinets. Your down time is minimal, no gutting, no replacing, minus the hassle of a complete overhaul and remodel. Furthermore, you have full access to your kitchen or bath areas during the cabinet painting process. You get a whole new look at a fraction of the cost!
We offer professional bathroom and kitchen cabinet painting services and can paint all surfaces.
We will clean and paint your cabinets and cabinet doors with some of the highest quality coatings available. Our high-quality products are extremely beautiful, with chemical and chip resistance ratings.
In addition, to the painting of the cabinetry, we also offer 2 available finishes. All Over Glazing and/or Antiquing. Below are sample pictures of the 2 different finishes that we offer.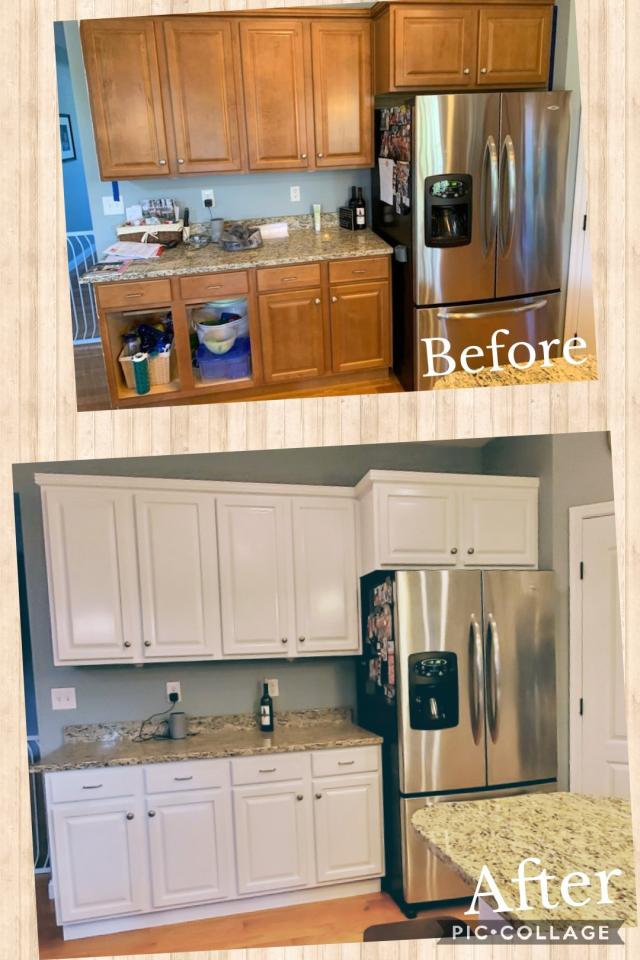 Furniture Restoration
Over time, old furniture can begin to look worn from years of use or may simply just be outdated. Constant wear, dirt build-up, cleaning chemicals, and more can cause wood to become faded and discolored. Two Girls n' a Brush offers affordable and professional wood painting and restoration services. 
Before you haul your old furniture to the curb and purchase new furniture here are a few things to think about:
Furniture today is NOT made like it used to be. Many years ago, furniture was built to last for 50 to 100 years. The majority of the furniture that is built today, is not built to last.
I see quite a bit of people practically giving their "old" super sturdy furniture pieces away and then reinvesting the money in a much less sturdy and lower quality piece of new furniture.
Two Girls n' a Brush has the experience of reinventing your furniture pieces into something that you can enjoy for years down the road.
Interior Painting
Freshen up your family room or energize your bedroom with a fresh coat of paint. Two Girls n' a Brush can complete a variety of paint jobs from small to large homes, and we treat every job with the same attention to detail and quality. We strive to ensure we minimize our impact to the homeowner's living space and lifestyle during the interior painting process.